Home > A Back and Neck Support Store > Product Index > Pillows >
Mediflow Water Pillow Research
---
Research on the Mediflow Waterpillow
Logan College of Chiropractic's Study
---

Logan College of Chiropractic's Director of Research and Ergonomics Gary E. Sanders, PhD reported the results of a study on the Mediflow Waterpillow on January 16, 1996. He reported that 104 subjects were given a Mediflow Waterpillow pre-filled with 128 ounces of water and were asked to sleep with it for seven consecutive nights. After which each subject completed a five item survey, regarding their impression of the waterpillow. From these data it was found that:

* Sixty eight percent of the subjects felt that the Mediflow waterpillow was better than the pillow they normally used.
* When asked about the quality of their sleep with the Mediflow Waterpillow, 86% said that it was excellent to good
* Sixty eight percent of the subjects felt that their sleep, when using the Mediflow Waterpillow, was actually better than usual.
* 90% of the subjects said they would continue to use the Mediflow Waterpillow.
* Most (84%) of these subjects expressed that they liked the Mediflow Waterpillow, in that they rated the pillow an 8, on a 10 point scale.
MARKHAM, Ontario, Feb. 6, 1997 -- A peer-reviewed independent, published clinical study on the therapeutic effectiveness of cervical pillows released by Johns Hopkins University School of Medicine in Baltimore, Maryland, revealed that the Mediflow Waterpillow from is a simple and effective way to reduce neck pain and associated headaches.

The study also found that users of the U.S.-manufactured Mediflow waterbase pillow experienced an improved quality of sleep which in turn creates a better quality of life. The Mediflow waterbase pillow's specific engineering and patented design places the water-filled pouch at the base of the pillow .

The Mediflow waterbase pillow, a new and totally unique bed pillow, is currently the only cervical pillow on the market with independent, peer- reviewed, published clinical proof of efficacy.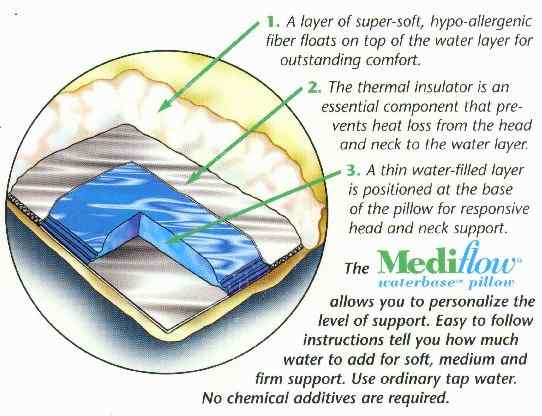 Every person's anatomy is slightly different. People have different preferences about the firmness of their pillow. On average, there are 12 major body shifts and 50 movements in head and neck position during sleep.
The Mediflow WaterPillow, with its advanced engineering:
Adapts to different anatomical shapes and sizes.
Allows you to personalize the level of support you want.
Easy to follow instructions tell you how much water to add for soft, medium and firm support.
Use ordinary tap water.
Instantly Responds to changes in sleeping position.
The layer of soft polyester fiber positioned on top of the water layer creates a very comfortable pillow.
Is made with your sleeping comfort in mind.
As you roll from back to side, the water instantly adjusts to maintain correct head and neck support and outstanding comfort.
The Most Comfortable Pillow You Will Ever Sleep On.

Instantly Adjusts To Any Sleeping Position. You can change the firmness by the amount of water added, just like a waterbed. Supports the Cervical spine ideally.
Clinically proven to help naturally relieve neck pain caused by arthritis, stress or injuries.
The water pillow is surrounded by an Extra Soft Layer of Polyester fill to make it perhaps the most comfortable pillow ever.

Order the Mediflow Pillow

Home | Product Index | Ordering information