NEW iJOY Home Massage Chair with Limited Warranty
---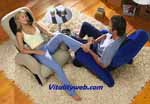 Compression
A unique combination of alternating strokes and pressing on the spine.

Kneading
Ease soreness and work out the "knots" with a deep kneading massage.

Percussion

Feel invigorated by the sensation of hands rapidly tapping on your back muscles.

Rolling
Feel the tension dissolve with the gentle rolling massage. Indulgence should be a virtue.

iJoy-100 - DIMENSIONS
46.5"L x 27"W x 24"H - Reclined
32"L x 28"W x 21"H - Upright
Box Dim.: 32"L x 28"W x 21.5"H
Click to Enlarge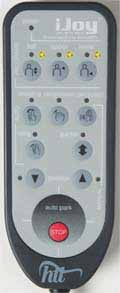 NEW iJOY-100 Massage Chair / Recliner with Human Touch Technology- approximate dimensions are: Seat area - 19" deep and 18" wide. Seat is approximately 13" from the floor and the back is approximately 27.5" high from the seat. Chair has a manual hydraulic recline mechanism. New iJOY Massage chair orders include free Basic Ground shipping and Sales Tax (Only California orders have to add 8.75% sales tax. All Orders outside of California are not charged sales tax.) - $499 -699 NEW (Includes Shipping) or $355 Refurbished (plus shipping).

More Velour and Faux Leather iJoy Chairs also available!!
iJoy Robotic Massage Chair Comparison Chart


Exclusive features of the iJOY-100 include:
Quad-Roller Massage Mechanism follows the contour of your spine

Wheels to easily move the chair.

Adjustable Headrest \ Lumbar Pillow

4 Modes: Kneading, Compression, Percussion, Rolling.

3 Programs: Full Back, Upper Back, Lower Back
Manual Recline - Backrest reclines back 150 Degrees
Two Motor Massage Chair

One Year Manufacturer's Limited Warranty (New chairs)
90 Day Limited Parts Warranty (Refurbished)
19x18" seat that is only 13" from the floor.
NEW CHAIRS INCLUDE FREE FEDEX USA GROUND SHIPPING!
NO SALES TAX (Except California Orders)
Optional Ottoman 3.0 is available for Only $329.
Optional Ottoman 2.0 is available for $249..
Optional iJoy 100 Kit - Extra ijoy pillow & backrest cover (Black)
iJoy Robotic Massage Chair Comparison Chart


Chairs and Ottomans are stocked for IMMEDIATE shipping!
EXPRESS 1-2 Day shipping is $250 for one ijoy Chair.

-

WHAT ARE REFURBISHED CHAIRS??
Chairs can be classified as refurbished for many reasons and we do not know specifically why each one has been classified as such. Most are simply opened box chairs that are fully inspected, tested and reboxed chairs that can not be sold as New once they have been opened. You can be rest assured that these ARE NOT worn out, tired or destroyed chairs. We take great pride in offering refurbished products that are as close to "new" as the factory can make them. Our refurbished products have undergone an extensive testing and evaluation process by the factory technicians (not a reseller). All massage mechanism components have been replaced with factory-fresh parts. as needed. Upholstery is factory-fresh. Where necessary, scratched parts have been replaced with factory-fresh parts. Minor blemishes are unavoidable but rare for these high quality chairs and may be the only reason these chairs have been classified as refurbished.
Excellent, product arrived on time and in perfect condition. - Chad P.


| | | | | |
| --- | --- | --- | --- | --- |
| | | | | |
| Black Denim | Blue Denim | Gray | Camel | Blue |

FREE PICK-UP AT OUR SAN DIEGO SHOWROOM!!
Click Here for More Massage Chairs


*WARRANTY INFORMATION: New iJOY massage chairs come with a manufacturer's one-year limited warranty against mechanical defects (cosmetics are not covered). Parts are covered for one year from the original date of purchase. Parts and Labor are covered for 90 days from the date of purchase. Refurbished Massage Chairs have a 90 Day limited warranty for parts only. The warranty is not valid if the product has been misused or damaged in any way that is beyond the control of the manufacturer. The chair (or parts) may need to be returned to the manufacturer for service by technicians. Extended warranties are available on New and Refurbished Massage Chairs. Chairs are packed for shipping and require only very minor assembly. MORE WARRANTY INFORMATION