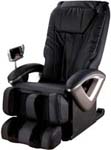 HEC-SA5000K / HEC-SA5000C SANYO Massage Chair - Enjoy a relaxing and therapeutic massage in the comfort of your own home. This relaxing massage chair introduces Sanyo's exclusive stiffness detection and physical shape sensors that provide a unique and personalized massage. Exclusive GK Rollers "grasp and knead" to emulate a live massage. Choose 1 of 4 full-body automatic courses, or 3 lower body courses. To manually control the massage, select one of 8 individual or 12 combination courses including GRIP, SHIATSU, MASSAGE, TAPPING, and multiple STRETCHES. Lower body relief is provided via air bags with exclusive multi-point heated shiatsu massage. Sanyo massage chairs are backed by a full 1-year warranty with 3 years coverage on the roller mechanism.
Exclusive GK Roller Technology. Rollers reach out and comfortably squeeze the neck and tops of shoulders, emulating the "grasping and kneading" of a live massage.
Exclusive Stiffness Detection Sensor. Body temperature, perspiration, and pulse rate are monitored during a short evaluation period, followed by a customized massage, focusing on detected areas of stiffness. Choose from FINE, RELAX, STIFFNESS or RECOVERY mode, according to how you feel.
Physical Shape Sensor adjusts massage rollers automatically to accommodate various body types and shifts in position during massage.
Leg and Foot Multi-Point Shiatsu Massage. Airbags deliver deep and penetrating relief to feet, calves, and legs. Optional heat setting can be used to promote circulation and relaxation.
4 Memory Courses allow for storage of personal massage preferences.
4 Full-body Automatic Courses to address individual massage needs.
12 Combination Manual Courses include Grip, Shiatsu, Massage, Tapping, lower body, and multiple Stretches.
Control Panel with Large Multi-Color Display informs the user of massage status and detected areas of stiffness.
Palm-Size Sub-Controller contains the stiffness detection sensor and controls for fine-tuning massage.