EP3222 Panasonic Real Pro Elite Massage Lounger with Body Scan Technology
---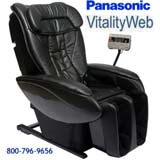 EP3222 Panasonic Real Pro Elite Massage Lounger with Body Scan Technology - EP3222CU Warm Gray / EP3222KU Black


Endorsed by the American Chiropractic Association - Panasonic massage loungers are the first chairs to be approved by the American Chiropractic Association (ACA), the largest professional association in the world representing doctors of chiropractic. In fact, this distinction represents the first massage chair endorsement given by the ACA. Recognizing the many health benefits of regular massage, the ACA found that Panasonic massage chairs provide outstanding deep-tissue relief, which can temporarily relax tense muscles, offering an ideal complement to chiropractic manipulation.
Body Scan Technology for a Personalized Massage - The RealPro Elite™ Massage Lounger uses Body Scan technology to deliver a massage that's personalized for your body. You'll also get 185 square inches of back massage, 25% more than our previous massage lounger with Body Scan technology. When you sit down, pressure sensors on the massage heads scan your back for 20 seconds and then locate the tops of your shoulders. The massage is then contoured to your spine's curvature for a tight and proper massage.
Full Body Air Massage System - A total of 33 air bags (that's 614 square inches of air massage!) work together, pressing and squeezing tired muscles, to relax multiple parts of the lower body. As they simultaneously inflate and deflate in varying patterns and speeds, the tension in your seat, hips, thighs, calves, shins and feet miraculously dissipates:
Hips/Seat - Soothing squeezing for relaxation of muscles and increased circulation
Thighs - Applies pressure to the muscles in the thighs, which relieves tightness and tension while increasing blood circulation.
Calves/Shins - Kneading and loosening of the calf muscles and shins.
Feet - Upward pressure is applied for the ultimate relief.
Five Pre-programmed Massages - The RealPro Elite™ Massage Lounger has four 14-minute and one 5-minute preprogrammed massages varying in intensity.
Shiatsu - Firm style of massage that includes squeezing and finger pressure.
Deep - Slow kneading will relax tight muscles.
Swedish - A softer massage for a tired body.
Stretch - General program that uses a variety of massage movements.
Quick - Incorporates most of the massage techniques in a wonderful 5-minute massage.
3 Personal Memory--18 programs including Self-Program - Six programs (Four 14-minute Pre-Programs, One 5-minute Quick Program and One 14-minute Self Program) can be personalized and saved for three people.
Easy-to-use Remote with Voice Guide & LED Screen - The remote on the Panasonic RealPro Elite™ Massage Lounger allows for a complete personalized massage at the touch of a button. And our helpful voice guide takes you through your massage experience every step of the way.
Panasonic Massage Chair Comparison Chart
NEW Chairs can add white glove delivery service for $195 (Free to LA, Orange, Riverside and SD Counties)
EP3222 Specifications:
American Chiropractic Association Endorsed.
Body Scan Technology for a Personalized Massage.
Modes: Swedish (2), Kneading (2), Compression (2), Tapping (2) Shiatsu (2) Rolling (1)
Five Preprograms: Shiatsu, Deep, Swedish, Stretch & Quick
Float Mechanism
Electronic Intensity Control
Memory Capability: Up to 18 programs for three people
Speed Control: 5 stages
Total Massage Area 188 square inches (30"L x 6.3"W)
Massage Stroke 30"
Massage Width 2" - 8.3" (with lateral move)
Upholstery Ultra-soft Synthetic Leather
33 Air Bags For lower body Massage
Ottoman Extends 9"
Massage Strength Up to 4" deep
Shin/Calf Massage, Leg Stretch, Seat/Thigh Massage, Hip Massage & Foot/Sole Massage
Power Recline
Ottoman Up/Down Control
Program Time Indicator
Height Adjustment
Voice Guide Remote Control with Self Program and Programmed Operation
Available Colors: Black or Warm Gray
Maximum User Weight 264 lbs.
Minimum Distance from Wall 16"
Power Source AC120V 60Hz
Power Consumption 210 watts
UL Approved
Dimensions (H x W x D) 45.3'' x 33.1'' x 50.8'' Weight 170 lbs

FREIGHT GROUND CURBSIDE SHIPPING IS INCLUDED on New Chairs ($165 Value)
FREE WHITE GLOVE In Home Delivery, Setup and Box Removal for New Chairs in Southern California.

SALES TAX is INCLUDED on New Chair Orders.

*WARRANTY INFORMATION: New Panasonic EP3222 massage chairs come with a manufacturer's three-year limited warranty against mechanical defects (cosmetics are not covered). Parts are covered for three years from the original date of purchase. Parts and Labor are covered for one year from the date of purchase. The warranty is not valid if the product has been misused or damaged in any way that is beyond the control of the manufacturer. Chairs are packed for shipping and may require only minor assembly.